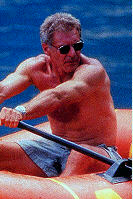 ordinary stunts - 'the every day man in an extraordinary situation,' as he's called it), in that there is the element of slight comedy mixed in, making it an action/comedy/adventure/romance movie.


For starters, any movie with this handsome stud is a hit with me. This one gets bonus points for having lots of shirtless Harrison (portraying pilot Quinn) showing off his physique, being moody but somehow sweet, and having David Schwimmer in the cast.


Anne Heche (Robin) plays a magazine writer, engaged to one David Schwimmer (Frank). Frank is a sensitive, caring guy who showers his girl in gifts and trips. Any "Friends" fan can see a definite parallel to Schwimmer's "Friends" character, Ross.