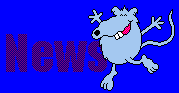 This section is to give you the latest news we receive from bands (newsletters, show dates, album releases) ... saves you from having to check all the separate band sites (though you still should! unless you're in a real hurry).
Bands, be sure to send us your brief updates to post.

read the latest news on ...
send your updates | return to music main